Cupar Corn Exchange, 30 March 2022, from 7pm
The East Fife Sports Council exists to support, promote and develop amateur sport at all levels within the East Fife area. Each year we celebrate sports people from our area together with their clubs, coaches and volunteers.
The 2022 Awards Ceremony recognises the contribution of sports people who have supported and been active in their communities in Fife during the year to 31 December 2021. Clubs, groups or individuals are invited to make nominations for these awards, and nominations are open to all sectors of the community. Nominations should be submitted online (below) or using the form (also below) to reach the secretary no later than 22 January 2022.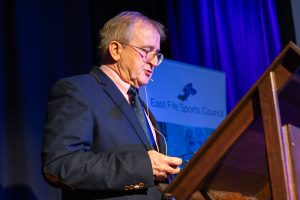 NOMINATIONS ARE  NOW OPEN
MAKE AN ONLINE NOMINATION HERE (see also categories below)
DOWNLOAD NOMINATION FORM P1 HERE
DOWNLOAD NOMINATION FORM P2 HERE
Award Categories
Club Project Award – awarded to the club that progressed and enhanced its development for the good of its members, allowing the club to recover, look forward and flourish after lockdown.
Community Project Award – acknowledging outstanding volunteer support by a club, group or individual in benefitting or caring for their local community during the most challenging times in 2021.
Keeping Connected Award – marking the commitment by a club, group or team who made good use of a variety of communication methods to engage members of their community in their sport or activity during the most challenging times in 2021.
Sustainability Award – marking a club or group that demonstrated strong governance in developing a plan and strategy to improve delivery of their sport and promote and encourage community participation.
Award for Recovery from Adversity – recognising a club or group that through adversity showed clear understanding of what needed to be done, identified and asked for help, focussed and worked as a team to overcome a problem or challenge.
Young Person of the Year Award (under 21 as at 31.12.2021) – recognising an individual or team, which through hard work, dedication and determination has made a significant impact in personal or club development in their sport.
Coach of the Year Award – recognising an individual who has committed to providing the highest standard of coaching, whether it's with individuals or teams and at any participation level.
East Fife Services to Sport Award – awarded to an individual (Administrator, Coach or Official) for their voluntary contribution to local sport over a lengthy period of time. The individual must be associated with a sport, activity or voluntary organisation recognised by Sport Scotland.
All nominees must be a member of a club within the EFSC area or reside within the area. Clubs nominated for category 1 must represent a club affiliated to EFSC.
Award winners will be chosen by the EFSC Awards Committee whose decision shall be final, they also reserve the right to move nominations between categories at their discretion. Further details available from secretary@eastfifesportscouncil.org.uk

Programme of Events
7pm Buffet Reception, catered by The Sunshine Kitchen 
8pm Presentation of Awards, hosted by Richard Brickley OBE, MBE
9.30pm Close
More information to be confirmed as well as our kind supporters.